Since 2006, a leading metal component manufacturer for OEM Equipment Manufacturers
We harness our experience, processes and technology to design and manufacture metal components and assemblies meeting exacting specifications.
Our skilled laser operators achieve higher quality, lower cost parts, which translates into more competitive price points for our partners.
All our CNC brake press operators are experts in programming and setup to deliver tightly tolerance bends every time.
Our CWB certified welders are proficient at their craft, ensuring welds look great and exceed industry standards. We weld Mild Steel, Aluminum and Stainless.
We build in Design for Assembly (DFA) techniques into all our designs to make assembly efficient and to eliminate errors.
FULL-SERVICE DESIGN ENGINEERING
We help our clients visualize and create a design concept through 3D CAD Software, then collaborate with our partners to ensure that the objectives are clearly defined before moving to production.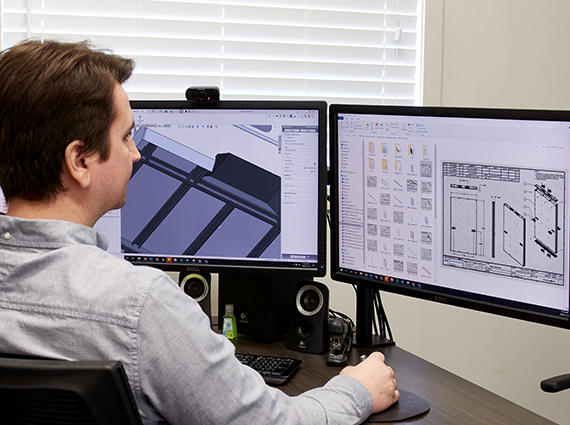 We provide design services and volume manufacturing of ferrous and non-ferrous products.
MINING
We supply components and assemblies for mobile mining equipment.
AUTOMATION
We offer over a decade of experience in the industrial automation industry.
CONSTRUCTION
Our engineering team completes drawing take-offs for the supply of structural steel brackets.
MANUFACTURING
We supply production volumes of sheet metal weldments and laser cut parts and replacement parts.
AGRICULTURE & FORESTRY
We supply high tolerance, heavy gauge components with highly durable powder coated finishes.
HIGHLY SKILLED AND DEDICATED TEAM ENSURES EACH PRODUCT MEETS OR EXCEEDS EXPECTATIONS.
We are a Canadian based custom metal fabrication company focused on manufacturing high-quality metal products, built by professionals, who leverage advanced software, machines, technology, and equipment.
" In over nine years working as a project planner, purchaser, and supply chain planner, I have never been so impressed with one of my suppliers. I look at three main criteria when looking for a new supplier: quality of workmanship, price, and customer service. I can quite honestly say that I would give JVC a rating of 10/10 in all three categories! "
WE OFFER INNOVATIVE SOLUTIONS FOR SEAMLESS MANUFACTURING
Our combined services of design and production make us an attractive partner for many businesses.