CNC Laser Cutting
Deburring
JVC Precision has an experienced team of skilled designers and technicians who produce some of the best quality laser cut parts.
The heart of our laser cutting operation is our Mitsubishi 10K CNC fiber Laser equipped with an automatic pallet changer and vacuum lifting crane.
These investments allow for quick loading to maximize productivity and save customers money.
We know customers demand the highest quality parts, that is why we use high purity nitrogen and oxygen assist gasses for all our cutting. We have fine-tuned our process to minimize carbon deposits from the laser which results in cleaner edges. Cleaner edges save time and money due to reduced deburring requirements and  better adhesion of paints and finishes to the steel.
we use industry leading automatic deburring and edge rounding Machines for consistent quality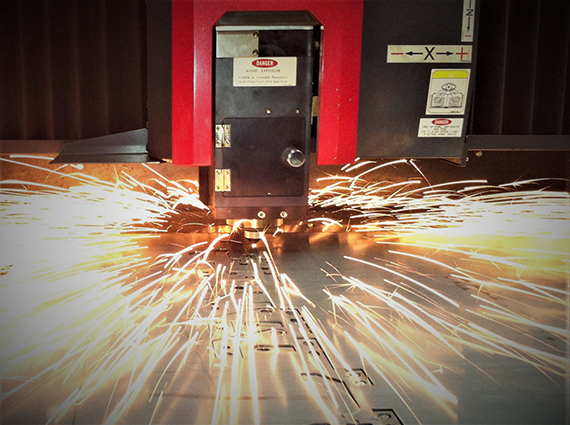 Our capabilities for laser cutting include Mild Steel, Stainless Steel and Aluminum up to 1" thickness. Our laser bed size is 60" wide by 120" long.
In addition to our material processing expertise, we also rely on design tools such as SolidWorks and RADAN to nest the parts together as tightly as possible to ensure quality and to maximize material usage.
Not only do we use our laser for cutting, we also use it to engrave text and weld locations to aid our welders and fitters and improve our quality first pass yields. We can even laser cut holes that are so precise they can be tapped without having to pre-drill.
With over 30 years of combined CNC Laser Cutting experience, you can be sure your project will be delivered to exacting quality standards, delivered on-time and will be cost competitive.
WE OFFER INNOVATIVE SOLUTIONS FOR SEAMLESS MANUFACTURING
Our combined services of design and production make us an attractive partner for many businesses.